Symtoys is proud to introduce our eBook Library!
Here you will find erotic eBooks for sale. You can read these on your computer, or on a Kindle, Nook, iPad, iPhone, or iPod Touch, or on any smart phone. As time goes on, we will add more eBooks, both fiction and non-fiction, to the Library.
Nineteen Weeks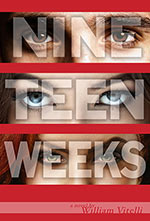 Amy Silver had a conventional life as a suburban housewife married to a successful man. That all changed the day she discovered her husband's affair--and how she responded surprised her.
When she caught him red-handed, she proposed a solution that would avoid the mess of a loud and public divorce. Instead, she told her husband and his mistress that they would belong to her for nineteen weeks, the same length of time the affair had been going on. For those nineteen weeks, both of them would help her to fulfill her wildest fantasies, no questions asked. The things all three of them learned during that time would change their lives forever.
Erotic fiction with strong BDSM themes, including group sex, blackmail, and bondage.
---
Elicitation


Book 1 of the Training of Eileen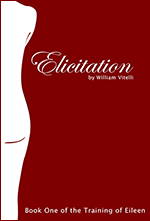 Eileen was happy to begin a new life with her new husband. Visions of fairy tales and "happily ever after" filled her head; as the wife of a wealthy and handsome architect, she thought she would have everything she ever wanted.
And she did, though not quite in the way that she might have imagined.
Her husband Anthony, seeing beneath her repressed exterior someone who wanted nothing so much as to be kidnapped and carried away by pirates, set out to train her as his new sex slave...whether she wanted it or not. What followed was an intensive introduction into a new world she could scarcely have imagined.
Erotic fiction with strong BDSM themes, including non-consent, bondage, fetish, and humilation.
The Training of Eileen started out as a story on Literotica, which grew to two full-length novels. The version on Literotica is one of the most popular stories on the site. It has been extensively edited and is now available as a downoladable eBook for Kindle Nook, iOS, or in PDF.
Also available in paperback from Amazon!
---
Evocation


Book 2 of the Training of Eileen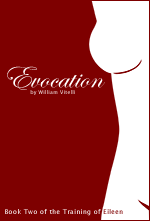 Continuing where Book 1 leaves off, we follow Eileen deeper down the rabbit hole, as her husband continues her training. A deep passion is ignited within her, and Eileen finds herself going much further into her new role than she would have dreamed possible.
This eBook is revised and edited, and includes an all-new epilogue that follows Eileen and Anthony long after the original story ended.
Erotic fiction with strong BDSM themes, including non-consent, bondage, fetish, and humilation.
The second and last part of the Training of Eileen, with an all-new epilogue.
Also available in paperback from Amazon!
---
The Webcam Chronicles

(Second Edition!)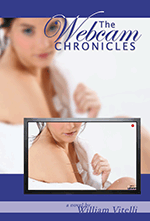 Jackie was a successful businesswoman in a D/s relationship with her partner Robert. When Robert began spending more and more time away from home on work assignments, he developed a custom of having her perform for him on the Webcam. But when he told her one evening that he had invited someone else to watch her, things got more interesting. And when he told her that he'd invited the watcher over for a more personal introduction, things got more interesting still.
The Webcam Chronicles is a story of submission, exhibitionism, and erotic exploration with strong D/s and exhibitionistic themes.
eBooks can be downloaded instantly from the order checkout page, or from the
My Account
section of the shopping cart.